Quickly following a series of goodwill gestures approved by the Israeli cabinet toward the Palestinians, the office of Prime Minister Benjamin Netanyahu issued a statement assuring the public that the only reason the gestures were made was because President Trump asked for them.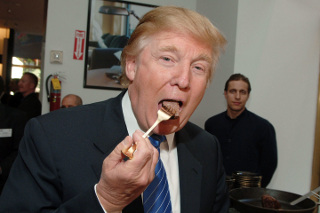 The moves included easing the number of building permits for Palestinians in the occupied Area C of the West Bank and allowing the border crossing between Jordan and occupied Palestine to stay open 24 hours a day.  Most of the far-right cabinet was okay with this, though the members of Jewish Home voted against the measures.
Most of the Israeli cabinet termed the concessions "harmless" to Israeli interests, while Jewish Home leader Naftali Bennett complained hat Israel didn't get anything in return, and that therefore it was "unfair" to ease building permits for the Palestinians.
Trump has already gotten Palestinian President Mahmoud Abbas to express support for unconditional resumption of peace talks, but faces an uphill battle in Israel, with parts of the coalition opposed to a two state solution on any terms. These "goodwill gestures" may allow Netanyahu to present himself as trying to get the peace talks going, even when he ultimately declines the offer because it is too politically damaging.
Last 5 posts by Jason Ditz