With European officials complaining about yesterday's announcement that Secretary of State Rex Tillerson will not be attending the April 5-6 meeting of NATO foreign ministers, the State Department has confirmed that the US is proposing alternate dates during which Tillerson would be available.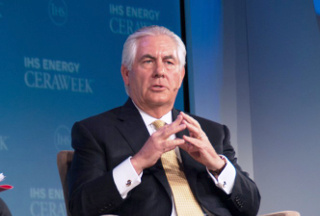 Tillerson is unavailable because Chinese President Xi Jinping is visiting the United States for talks on April 6-7, and Tillerson will be attending those talks. That Tillerson is planning a visit to Russia the following week has other NATO nations complaining that the US is favoring Russia over NATO.
Officials say that the State Department had initially refused a NATO offer to reschedule the meeting, and now that they are offering to reschedule, it may well be too close to the date of the meeting to actually do so. The State Department said any date change was up to all 28 NATO members to agree on.
Even if there was time for such a rescheduling, it would almost certainly come after Tillerson's planned Russia visit, and that's likely to leave several NATO officials resentful, and give them an excuse to once again hype the Trump Administration's putative Russia ties.