Declaring 2017 to be "a year of kicking Russia in the ass," Sen. Lindsey Graham (R – SC) is pushing for a new series of anti-Russia measures in Congress, saying he expects to push President Trump to take a tougher stance against Russia with new sanctions.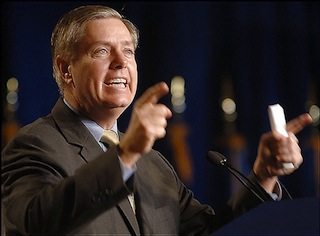 The always hawkish Graham made the comments with respect to questions about possible Russian involvement in the 2016 US presidential election. Graham is one of several senators eager to launch anti-Russia investigations with respect to the election and other general issues.
Of course, Sen. Graham has been pushing anti-Russia measures since long before the election allegations, and will be pushing such measures in Congress long after the election has been forgotten. Russian Foreign Minister Sergey Lavrov shrugged off the comments, however.
"I have seen no facts," Lavrov said of the allegations, "just some accusations that we tried to hack some Democratic Party website." The lack of facts has been a recurring problem with the push to "punish" Russia for it, though within Congress their appears to be near unanimity that such allegations wouldn't keep being repeated if they weren't true.