In an interview with the Hebrew-language Israel Hayom newspaper, President Trump reiterated concerns about Israeli settlement growth, saying he is "not someone who believes that advancing settlements is good for peace," and urging Israel to act reasonably.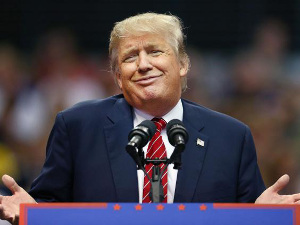 Details on the interview are still not totally clear, as Trump's interview was not published in its entirety, nor was the English language translation of it available. This may limit the extent to which the comments are publicized in the English-speaking media, and the need of Israeli officials to react to it.
That Trump felt the need to reiterate the statement at all is newsworthy, however, as the White House had previously said more or less the same thing and Israeli officials spun this as Trump giving them "carte blanche" to expand the settlements however much they want.
In the interview, Trump also said he wasn't comfortable criticizing Israel in general, which likely allows the Israeli government to ignore the comments or spin them however they like, assured that the Trump government won't want to make too big a deal out of whatever they end up doing.