The Pentagon has announced that they carried out a major airstrike against al-Qaeda's Nusra Front in northern Syria's Idlib Province, carried out by a B-52 bomber and an unspecified number of drones. Officials reported "over 100" al-Qaeda fighers were slain.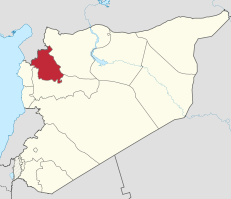 According to Pentagon spokesman Capt. Jeff Davis, the attack targeted an al-Qaeda training camp which has been in operation since 2013, and the attack was carried out in the last hours of President Obama's final term in office.
That the attack was carried out under Obama's watch is something of a surprise, as in the last year the administration has repeatedly referred to the Nusra Front as "moderates" and angrily condemned Russia for carrying out airstrikes against them, particularly backing their control over parts of the city of Aleppo.
Officials say they believe today's attack killed a number of "core" members of al-Qaeda, including many who had moved into Idlib Province over the past year since the Nusra Front faction established a foothold over the province. Other rebel factions have moved into the area in recent months, but Nusra appears to have retained the leadership position.