German Foreign Minister Frank-Walter Steinmeier lashed out at US President-elect Donald Trump today, insisting that the entire NATO alliance is concerned by his recent comments describing NATO as "obsolete," saying he's causing anxiety across the alliance.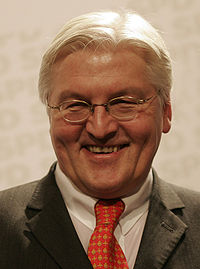 Steinmeier reported speaking with other EU foreign ministers about Trump, saying there has "been no easing of tensions" between the various foreign ministers and the incoming Trump Administration. Since Trump's election he has faced repeated condemnation from European officials.
At the same time, other German officials are hyping the idea of taking their own leadership position to "restore Western unity," and expressed confidence that the US Congress would not allow Trump to reduce America's role in the NATO alliance.
Trump tried to position his criticism of NATO in recent interviews as centering on convincing NATO to fight terrorism, claiming it had worked. He also faulted German Chancellor Angela Merkel for taking in "illegals."
Last 5 posts by Jason Ditz