With a week left until they even take power, Trump's cabinet may have already orchestrated its first major foreign policy crisis, as Chinese state media loudly condemned Rex Tillerson, the nominee for Secretary of State, over comments made at his confirmation hearing proposing to ban China from Chinese-made islands in the South China Sea.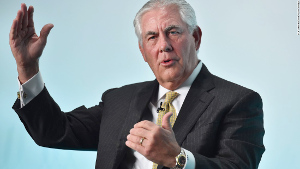 Tillerson never got into exactly how he imagined the US could simply block China from accessing the islands, but the state media noted that such an effort would almost certainly lead to a "large-scale war," and others warned of "a devastating confrontation."
While some Chinese media outlets dismissed Tillerson's comments as "unrealistic political fantasies," others warned it was vital to be clear that China would not allow their islands to simply be unilaterally revoked by the Trump Administration.
The Obama Administration has repeatedly complained about the man-made islands, and has sailed warships sort of close to them, which Pentagon officials have made a point of emphasizing as a move to contest China in the region, but in practice they have not attempted to "stop" China, nor indeed does there appear to be a way to do so short of a dangerous naval war.
Last 5 posts by Jason Ditz