President-elect Donald Trump is facing criticism for other nominations, but none may be so impactful as Sen. Rand Paul's (R – KY) promise to oppose John Bolton's nomination as Deputy Secretary of State, saying the ultrahawkish Bolton is "an automatic no."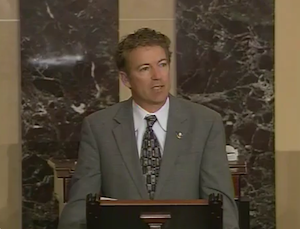 "John Bolton doesn't get it. He still believes in regime change. He's still a big cheerleader for the Iraq War," Paul noted. Indeed, Bolton appears far afield of the foreign policy Trump has advocated, and Bolton's open aversion to diplomacy makes him an odd choice in the State Department.
Since Sen. Paul serves on the Senate Foreign Relations Committee, he might be in a position to actually do something about this nomination. The committee is split 10-9 Republicans to Democrats, and if the Democrats are unanimous in opposing him, as they may well, Paul could keep his approval from getting out of committee.
Paul expressed openness at Rex Tillerson as Secretary of State, saying he's going to reserve judgement on him, but that Bolton "should get nowhere close to the State Department."
Last 5 posts by Jason Ditz