Occupied by the Kurdish YPG way back in August, the status of the city of Manbij has been a major source of tension with neighboring Turkey, which has warned that the Kurds aren't allowed west of the Euphrates and have to abandon the city immediately.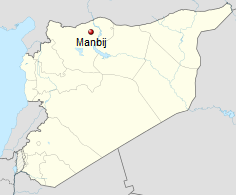 The YPG reinforced the city, then promised to leave it, then insisted they were never there to begin with. Today, the YPG once again announced their intention to withdraw from the city, claiming they have ensured ISIS will never be able to return.
US officials were eager to endorse the comment, saying the most recent of a series of YPG promises to leave Manbij amounted to a "milestone" in the US-backed capture, declaring that the US is "proud" of the support they provided in capturing the city.
Turkey invaded Syria after Manbij fell, and has repeatedly threatened to move into Manbij to expel the Kurds. These pledges to leave seem to buy the YPG a little time, but the more times that the promises don't pan out, the less credible each new assurance is going to seem.
Last 5 posts by Jason Ditz