Speaking to reporters today after a cabinet meeting, Deputy Prime Minister Numaan Kurtulmus revealed that Turkish officials had warned Joint Chiefs of Staff Chairman Gen. Joe Dunford against allowing the Kurdish YPG to participate in the invasion of Raqqa, saying it would "not contribute to peace."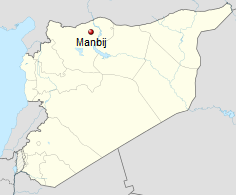 The US has already announced that the YPG will not only invade Raqqa, but will be materially the only ground force involved in the attack. Kurdish officials have warned against allow Turkey to become involved in the matter either, reflecting mutual distrust.
Kurtulmus, however, insisted Raqqa was just a secondary matter to Turkey, and that their "top priority" continues to be expelling the Kurdish YPG from the city of Manbij, along the Euphrates River. The Kurds captured Manbij over the summer, in fighting heavily backed by US warplanes.
Turkey has warned for years that the Kurds can't be allowed west of the Euphrates River, and Manbij is on the west bank of the river. Turkey invaded Syria roughly immediately after the city fell, but so far has not attacked the city itself. They have, however, attacked Kurdish forces around Afrin.
Last 5 posts by Jason Ditz