Turkey continued its airstrikes and rocket fire against the Kurdish YPG forces around the town of Afrin into the weekend, an ongoing flurry of attacks which began last week with airstrikes against YPG forces trying to attack ISIS, and killing 200 of the Kurdish fighters.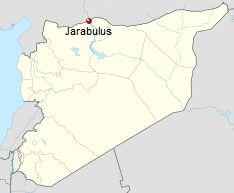 This led to some skirmishes with Turkish-backed rebels around Afrin too, and threatens to expand across the region, with reprots that YPG forces have started firing on the city of Jarabulus, farther to the east, killing two rebels in the attack.
This has been an ongoing problem all year, with the Kurdish YPG heavily armed by the Pentagon, and the Turkey-backed rebels the same groups armed by the CIA over the past several years, and the two constantly at one another's throats. Efforts to keep them out of direct conflict appear to have been dramatically undermined by Turkey's invasion.
A lot of this new fighting appears to be centered on plans to attack the ISIS-held city of Bab, with the Kurds already advancing in the area, and Turkey apparently deciding that the best way to make sure the Kurds don't get to Bab first is to attack them outright, even if it starts another war.
From Turkey's perspective, this is likely only a minimal concern, as their invasion of Syria came with the assumption they'd eventually be fighting the Kurds at any rate, and the shift toward attacking the YPG, even if it distracts from fighting ISIS, was one they were bound to make eventually.
Last 5 posts by Jason Ditz