Iraqi Prime Minister Hayder Abadi was upbeat about the offensive against Mosul today, insisting that the offensive is going "faster than planned." Only a couple of days in, the forces have taken a number of ISIS-held villages, though there has been minimal fighting since ISIS barely defended such outlying areas.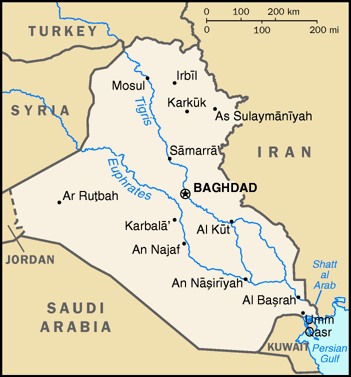 As they get closer to the city itself, however, the fighting has picked up dramatically, with some of the fiercest fighting yet reported today in areas around the town of Bartella, and ISIS suicide car bombs being deployed in larger number as Kurdish forces advanced from the north.
Speaking of the fighting in the north, the Kurdish troops encountered not just the car bombs, but a virtual maze of roadside bombs and landmines, with such a bomb killing the first US soldier of the invasion, one embedded with the Peshmerga.
Iraqi Maj. Gen. Maan al-Saadi claimed around 200 ISIS fighters killed around Bartella, with claims that Iraq had virtually seized the town, though reports continue of pockets of resistance. The closest troops are now said to be around 6 miles from Mosul, and predictions are they won't start entering the city itself for over a week.
That's when the real fighting begins, with the vast majority of ISIS defensive forces, as well as setting up of defensive structures, done in the city itself.  While taking the mostly empty Assyrian town of Bartella is an accomplishment, compared to the mostly empty villages they've seized prior, it really is a different matter from the invasion of Mosul, a city of over a million people, with makeshift walls and a moat, and many thousands of ISIS fighters.
Officials have increasingly been clear that they believe the Mosul invasion will take multiple months, and being "quicker than expected" in the early days seems less likely to meaningfully reduce the overall time, as to get into the bloodier endgame battle more quickly.
Last 5 posts by Jason Ditz