Turkish President Recep Tayyip Erdogan today claimed that the US has sent two planeloads of weapons into northeastern Syria and gave them to the Kurdish YPG. The Pentagon has not confirmed the shipment, but there were reports in the last couple of days that the administration was planning such a move.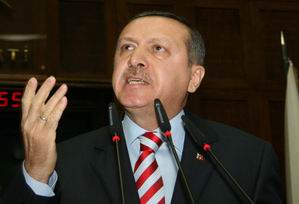 Erdogan was unhappy with the shipments, of course, reiterating that Turkey considers the YPG a "terrorist" organization, and adding that he had already raised his objections to the US government.
Erdogan also warned that the US would never be able to "finish off" ISIS with the Kurds as their ally, insisting that one terrorist group couldn't wipe out another. Turkish officials have been trying to convince the US that the invasion of the ISIS capital, Raqqa, must exclude the Kurds entirely, despite them being the main faction in the area.
Turkey has offered substantial support for such an offensive, so long as the Kurds aren't involved, but it remains unclear where the backbone of this fighting force would come from, with only a few dozen US troops in Syria and Turkey's own force backing a small, mostly Islamist rebel force spread awfully thin.