Turkish military officials have reported another series of airstrikes against targets in northern Syria, centered around Tel al-Hawa, which targeted three buildings, along with one vehicle and one motorbike. They reported that the attacks killed at least 20 ISIS fighters.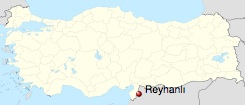 Turkey invaded northern Syria late last month, capturing the town of Jarabulus from ISIS. They have since taken virtually ISIS' whole border territory in Aleppo Province. Tel al-Hawa is part of this effort, just across the border from the Turkish city of Reyhanli.
The goal of these attacks is to install Turkish-backed rebels in control of that entire border strip, though whether there are enough of those rebels to do so in the long run is unclear. Tel al-Hawa is not far from the rebels' main stronghold in Azaz, but quite far from the initial invasion site.
Three Turkish soldiers were killed in this town on Friday, when ISIS destroyed one of their tanks. Though Turkey has taken much of ISIS' territory in the area, they have also set sights on Kurdish territory further to the east.