The White House has issued a statement "welcoming" the lack of fighting overnight between the Turkish military forces which invaded northern Syria last week and the Syrian Kurdish forces deployed further south along the Euphrates River.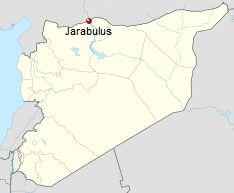 While it lasted long enough for the US to get a statement out, however, Turkish officials were quick to downplay the lack of fighting as not by design, denying claims by the Kurdish forces that a ceasefire was in place, while Turkish-backed rebels insisted that the "pause" in attacking the Kurds was to be a brief one.
Turkey initially invaded Jarabulus with an eye toward attacking territory recently captured by the Kurds, and inflicting heavy casualties on Kurdish civilians over the weekend. The advancing have been slow, as they try to take villages in the surrounding area, including not just Kurdish villages but also those previously held by ISIS.
This means that Turkish forces aren't necessarily going to always be in a position to attack Kurdish forces, even when they're moving toward that end, though all indications from their side today are that US demands that they stop fighting aren't actually being listened to, and the pause is purely coincidental.