After the US carried out airstrikes in support of their invasion last week, Secretary of Defense Ash Carter was the latest in a growing number of US officials criticizing Turkey for its attacks against the Kurdish YPG in Syria, insisting that their involvement in the war must stay focused exclusively on ISIS.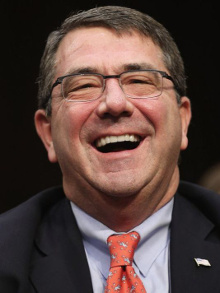 Carter told the media that there had been a "number of contacts" with Turkey over the past several days to that effect, and that he made clear the US believes that any fighting in northern Syria against anyone other than ISIS amounts to giving ISIS "more space."
Turkey's invasion greatly complicates US policy in northern Syria, since Turkey brought an allied rebel faction in with them, and both of them are overt allies of the US, but also in direct hostilities with the Kurds, who themselves are also US allies.
Last week the US had demanded the Kurds cede the city of Manbij to Turkey, but they have not reiterated that since, and having supported the Kurdish YPG earlier this month in attacking not just ISIS, but also the Syrian military in Hasakeh, the US seems eager not to burn any figurative bridges with any of its many allies in Syria, but struggles to do anything about them fighting one another.