A new statement from the Turkish Army have revealed that in continued military offensives in northern Syria, they've captured at least 10 more villages in the area around Jarabulus, shifting their focus to the western part of the area south of the city.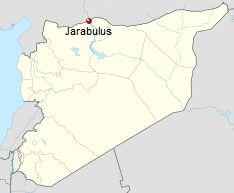 In the course of seizing the villages, at least 61 artillery strikes were launched against 20 distinct targets inside northern Syria. Turkey's statement insisted they were taking "all measures" to prevent killing civilians, after yesterday's strikes killed at least 35 Kurdish civilians. As of yet today's strikes have no casualty reports.
Along with a lack of casualty reports, the Turkish statement was conspicuous in not specifying who the "militants" they were fighting around Jarabulus were, as the territory includes both Kurdish factions and some ISIS forces, and indeed Turkey seems to be going after both in varying measures.
Turkey began the invasion of Syria late last week with the capture of Jarabulus itself. There have been indications that in the long-run this offensive will continue southward along the Euphrates River, aiming to displace the Kurds from Manbij, and to take the nearby city of al-Bab.