While it is rare for cross-border rocket fire from Yemen to hit much of anything, today the Saudi government has reported that one such rocket hit a family home in the southern city of Najran, killing two children and wounding five other civilians.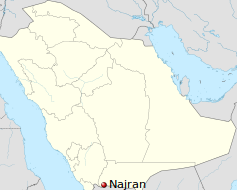 Since the Saudi invasion of Yemen early last year, it is not uncommon for the two sides to trade fire across the border, and Yemen's relatively unsophisticated rocket technology means a lot of strikes in a general vicinity, but little previous to hit intended targets.
Today's incident was reported to have been a Katyusha rocket, a largely obsoleted weapon produced by the Soviet Union through the late 1950s. Yemen had a smaller cache of more substantial missiles, but has largely used them before, to limited effect.
Both sides have been ratcheting up attacks in recent weeks, since the collapse of peace talks being hosted in Kuwait. Saudi warplanes destroyed a pair of houses in the city of Saada, on the Yemeni side of the border, on Friday, killing 11 civilians within.
Though there have been some half-hearted attempts to get the peace talks to resume, there is little momentum to that end, with the Houthis demanding an end to Saudi airstrikes as a condition for participating, and the pro-Saudi forces demanding the Houthis unilaterally disarm and surrender all their territory before serious discussion can begin.