Speaking in the wake of a massive weekend suicide bomb in the southern city of Gazientep, which officials have blamed on ISIS, Turkish Foreign Minister Mevlut Cavusoglu vowed to see the entire border between Turkey and Syria "cleansed" of ISIS fighters.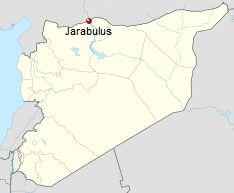 Cavusoglu claimed Turkey was ISIS' "primary target" because of Turkey's strict border controls. Historically, the vast, vast majority of ISIS fighters have entered Syria by way of Turkey, but Turkish officials have claimed to slow that flow.
The Turkish military carried out a handful of artillery strikes today against the ISIS city of Jarabulus, and many more strikes against the Kurdish forces further south, in the city of Manbij which they recently took from ISIS.
Turkey is hoping to see Jarabulus taken by a coalition of what they are describing as "moderate" rebels, but which in practice includes the al-Qaeda linked Ahrar al-Sham, which are preparing to attack the city from across the border.
Jarabulus is the last major city ISIS holds on the Turkish border, but is fairly far from the rebel coalition's territory. Turkey encouraged them to go through Turkish soil to launch the attack, in hopes they'll get to the city before the Kurds, who are just to the south, can get there.