Seven civilians were reported killed today, described by Saudi officials as four citizens and three expat workers, when artillery fire struck the southwestern Saudi city of Najran, hitting an industrial area. It is one of the deadliest strikes in Saudi Arabia since the Saudis invaded Yemen in early 2015.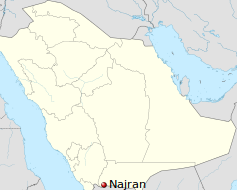 Locals said the strike landed just about half a kilometer away from a power station, and fueled considerable panic among locals. Najran has been targeted intermittently by the Shi'ite Houthi forces in Yemen, as one of the few significant cities in range of Yemen's artillery and limited missile arsenal.
Though "in range" for Yemeni forces, that is not to say that the attacks are particularly accurate, as what few strikes have managed to get across the border have killed mostly civilians. This has been similarly true of the Saudi strikes inside Yemen, which have killed thousands of civilians over the past year and a half.
While the ceasefire for UN-brokered peace talks never really stopped the fighting completely, the death tolls in the war have risen precipitously in recent weeks, since the peace talks collapsed. The pro-Saudi side has demanded the unilateral surrender of the Houthis, including full disarmament and the ceding of all territory to them.
Last 5 posts by Jason Ditz