Speaking today on state television, Russian Defense Minister Sergey Shogu announced additional military deployments along the nation's southwestern flank with NATO, including the deployment of more air defense systems and ground troops into the Northern Caucasus, and additional troops into the Crimea.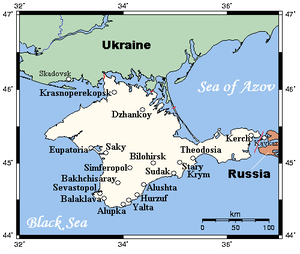 Technically, Russia's territory in the Northern Caucasus doesn't border NATO, but is relatively close to Turkey, and has a substantial border with Georgia, which has NATO ambitions. Both Russia and NATO have been escalating deployments on their frontier in Europe, particularly in the Baltics, and this looks to be an extension of that.
The force in Crimea is in a similar state, bordering Ukraine, which also seeks to join NATO. Both Ukraine and Georgia are unlikely to successfully join NATO, however, as each has extent territorial disputes with Russia which would need to be resolved first. In Ukraine's case, the dispute is over Crimea, which during Ukraine's regime change in early 2014 voted to secede, seeking and gaining accession into the Russian Federation.
Shogu says the troops in Crimea are now "self-sufficient," no longer needing direct support from the Russian mainland to operate. The US State Department responded to his announced deployments by insisting Crimea "is and always will remain part of Ukraine," accusing Russia of occupying it militarily.
The overt comments from the US and the rest of NATO about their opposition to Crimea's status is likely a big part of the reason for additional deployments, as Ukraine itself, despite constantly predicting WW3 with Russia, has no real capability to contest control over the peninsula.
Last 5 posts by Jason Ditz