As Turkey continues its aggressive "purge" of any signs of dissent after this month's failed coup d'etat, wholesale purges against parts of the military, police, and the education system have come and gone, and now they're having a go at the media, with at least 42 journalists detained and a larger number losing press credentials.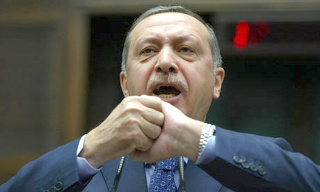 Turkey's Erdogan government going after reporters they don't like is normally barely news, and indeed the only reason this is seen as part of the purge as opposed to just Turkey's usual anti-free press activity is because officials are being very clear this is related to the coup.
A state-run newspaper published a substantial list of reporters, along with their photographs today, saying they were all suspected of "treachery," while a number of reporters have been sacked by media outlets across the country at the behest of the government.
The most high-profile target was Nazi Ilicak, a major TV commentator who had been sacked by a pro-Erdogan newspaper back in 2013 for reporting too heavily on the corruption scandal. It was that same corruption scandal that marked the split between Erdogan and Fethullah Gulen, who Erdogan has blamed for the coup.
In the years since the Gulen split, Erdogan has been increasingly hostile toward the media, arresting reporters as "terrorists" on a regular basis, and even nationalizing the nation's most popular newspaper on claims it was tied with Gulen.
Given how intense the anti-media crackdown in Turkey has been for years, it seems the only reason the industry wasn't hit harder in the immediate wake of the coup was that there's not a whole lot of free media left to target.
Last 5 posts by Jason Ditz