The US-backed Syrian Democratic Forces (SDF) have issued a statement today informing ISIS that they have 48 hours to leave their key Syrian city of Manbij, over which they've been fighting for the past two months. They added this was ISIS' "last chance" to flee.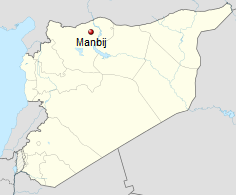 The SDF, which is dominated by the Kurdish YPG, attacked Manbij back in May, and despite repeated claims of imminent victory since then, still holds only a fraction of the city. Earlier this week, however, they did capture a hospital in the city, which they claim was ISIS' "command center."
The SDF's first push into the city didn't last long, as ISIS quickly mustered a counterattack, recovering several villages and chasing them back to the city gates. They've returned, but again don't seem anywhere near on the brink of taking the city outright, making the demand for ISIS to cede the city unlikely to result in anything.
Manbij is a strategically important city for ISIS because it is between their capital of Raqqa and their main territory in Aleppo Province, along the Turkish border. Manbij is the route through which most fighters go from Turkey into Syria, and over to the capital, and while alternate routes do exist, none are as straightforward, and could be more dangerous to use in the long-term.
Last 5 posts by Jason Ditz