Speaking today in an interview with al-Jazeera, Turkish President Recep Tayyip Erdogan said he believed unnamed foreign countries were involved in last Friday's failed military coup, which he has blamed on the Gulen Movement.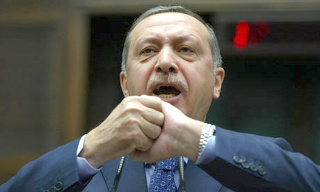 Erdogan didn't explicitly name any foreign country in the comments, but said he believed cleric Fethullah Gulen's organization "has another superior mind" from another country calling the shots. Gulen is living in exile in the US, and Erdogan had previously talked of the coup being orchestrated "from Pennsylvania."
Turkish officials have also suggested that overseas critics of the post-coup purge amounted to supporters of the purge. Erdogan took a shot at French Foreign Minister Jean-Marc Ayrault, saying he needs to "mind his own business" for criticizing the purge, and that he could come to Turkey to "get a lesson in democracy from us."
Turkey's Foreign Ministry also went after the New York Times, accusing them of wanting the coup to succeed, citing a Twitter comment advertising an article as evidence that they were brooding over the failure of the coup.
Turkish officials had also previously hinted they suspected the US of involvement in the coup, and made a point to arrest the commander of the Incirlik Air Base, home to many US troops, as part of their early post-coup arrests.
Last 5 posts by Jason Ditz