Speaking in an interview with NBC, Syrian President Bashar al-Assad slammed US involvement in his nation's war against ISIS, insisting it is "counterproductive and ineffective," as well as illegal since it is done without permission from or coordination with the Syrian government.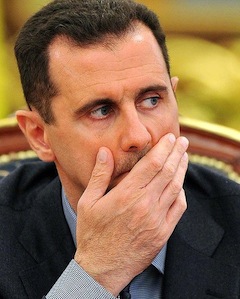 Assad went on to say he didn't believe the US was serious about defeating ISIS, insisting that terror factions only started suffering real losses when Russia became involved, and that they'd been growing steadily before, when the US coalition was the only international force involved.
"We wanted to defeat the terrorists, while the United States wanted to manage those groups in order to topple the government in Syria," Assad noted, insisting he is confident that the terror groups will be defeated outright in just a matter of months.
This confidence is an imminent victory echoes similar comments from Iraqi officials on their own war against ISIS, and seems to be built around misleadingly large reports of territory losses by ISIS, which mostly involves arbitrarily assigning empty desert to ISIS and then arbitrarily declaring it "lost."
Last 5 posts by Jason Ditz