Large posters bearing pictures of Pakistan's Army Chief of Staff, Gen. Raheel Sharif, have begun popping up all across Pakistan in recent days, with residents of many cities reporting such posters appeared on major highways in large numbers "overnight."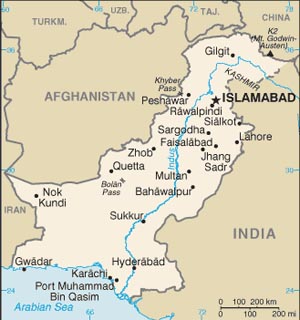 The posters call for Gen. Sharif, whose term as army chief is due to end in November, to launch a military coup, ousting the government of Prime Minister Nawaz Sharif and replacing it with a cabinet of technocrats, with himself as the new dictator.
Move On Pakistan, which has its logo on the posters, defended the effort, insisting "dictatorship is much better than this corrupt government," and that there is no guarantee Gen. Sharif's successor, to be appointed in November, would make as good a dictator as he would.
Though such efforts would seem absurd in most countries, the highly organized effort with fancy, well-printed posters seems a little too real in Pakistan, which has spent around half of its history as a military dictatorship. Indeed, Prime Minister Sharif's last term in office, back in 1997-1999, ended with a coup, and a decade of dictatorship by Gen. Pervez Musharraf.
The opposition Pakistani Peoples Party (PPP) accused the Sharif government of secretly being behind the posters, with an eye toward undermining the political opposition by giving the appearance of an imminent coup. PPP leader Aitzaz Ahsan said it was unthinkable that so many posters would go up without the government arresting the tiny "Move On Pakistan" group and charging them with treason, if indeed they'd acted alone.
Last 5 posts by Jason Ditz