At least 39 people were killed and dozens of others wounded when a series of airstrikes against a crowded vegetable market in the northwestern Syrian city of Idlib, a city under the control of al-Qaeda's Nusra Front.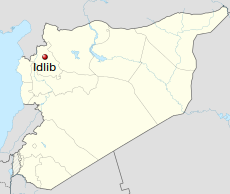 There were conflicting reports about the incident, with White Helmets claiming that the strikes were carried out by Russian warplanes. The Syrian Observatory for Human Rights, by contrast, said both Syrian and Russian planes were in the area and it wasn't clear which had attacked.
Russia previously announced that its attacks against al-Qaeda were "on hold" because of requests from the US government, which cited a number of US-backed rebel factions that are working closely with al-Qaeda and embedded with them.
A second airstrike was reported in the Idlib Province city of Maarat al-Numaan, which hit an apartment building, killing six people within, including a number of children. Maarat al-Numaan is among the western-most cities in the province, and is expected to be targeted by a Syrian offensive from neighboring Latakia.
Last 5 posts by Jason Ditz