With the US transitioning from previous operations that saw tens or hundreds of thousands of troops on massive bases overseas to scores of tiny deployments, the Pentagon is shifting training with an eye toward preparing troops to go "anywhere."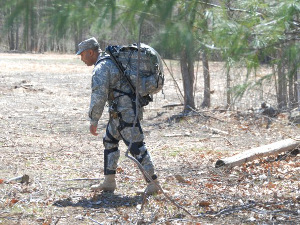 Anywhere, in the case of the training, means the middle of nowhere, as troops are being put through training that involves walking around with heavy rucksacks, digging foxholes and sleeping in tents with access to no more than basic supplies.
It's far afield from deployments on massive bases with fast food and many of the comforts of home, and Pentagon officials insist that it's important, because troops are going to increasingly be deployed in places where they don't have such comforts, and where what little gear they are given, they are expected to fix and maintain themselves.
Unclear from the comments is actually what the point of such deployments is, why the Pentagon is planning so many small, remote deployments, and what the troops are going to be expected to accomplish in tents in the middle of nowhere.
Last 5 posts by Jason Ditz