Though accurate death tolls are difficult to get in the best of times in Syria and all but impossible in rural areas, the Syrian Observatory for Human Rights today reported a "large number of dead" when a main camp belonging to Ahrar al-Sham in the Idlib Province was bombed by jets of unknown origin.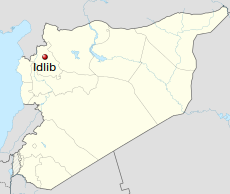 Syrian warplanes have been bombing targets in Idlib over the last 24 hours, and are believed to be behind this strike as well. Yesterday, it was reported by some rebel factions Russia was involved, though Russia has since denied this, saying they are still not hitting al-Qaeda targets, at the behest of certain rebel factions trying to extricate themselves from the al-Qaeda-dominated coalition.
Ahrar al-Sham, itself part of the coalition led by al-Qaeda's affiliate Jabhat al-Nusra in the area, does not appear to be one of the factions trying to create distance from the Islamists, however, and the group's leadership has time and again insisted they are ideologically in line with al-Qaeda's parent organization and loyal to Ayman al-Zawahiri.
Death tolls out of Idlib in the past two days of strikes are uncertain, with only around 24 confirmed killed, mostly civilians, but reports from the area suggesting the toll is likely much higher. Today's strike on the Ahrar al-Sham camp, for instance, is far enough away from the cities that the toll will likely be overwhelmingly combatants.
Last 5 posts by Jason Ditz