While US officials had previously been reluctant to comment at all on the incoming "most right-wing coalition in Israel's history," today the State Department confirmed that this, including new Defense Minister Avigdor Lieberman "raises legitimate questions" about the direction Israel is taking.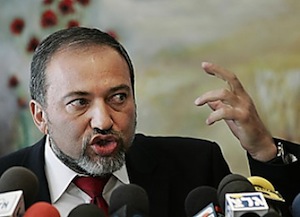 State Department spokesman Mark Toner said the US is particularly concerned about the number of ministers in the new Israeli cabinet that have been publicly opposed to the two-state solution, though he added that the US will judge the coalition on actions, not rhetoric.
While Lieberman made clear his inclusion in the coalition was predicated on parliament signing off on a plan to let the military execute Arab terrorists, he insisted he would act in a "responsible" manner while in office,and would tone down his bellicose rhetoric a bit.
Whether Lieberman can pull this off remains to be seen, however, as his previous term as the nation's foreign minister saw him alienating a number of traditional Israeli allies, and virtually forcing Prime Minister Benjamin Netanyahu to run international diplomacy out of his office because no one wanted to deal with the foreign minister's office.
The US "concerns" are likely minimal, as Israel already had a far-right government before Lieberman's addition, and Netanyahu campaigned last year explicitly on his opposition to Palestinian statehood.