With the ouster of Prime Minister Ahmet Davutoglu, a long-time leader of the ruling AKP, Turkey is further shifting under the unilateral control of President Recep Tayyip Erdogan, with the installation of one of his aides, Binali Yildirim, as prime minister, an official who immediately declared his "top priority" was expanding Erdogan's power.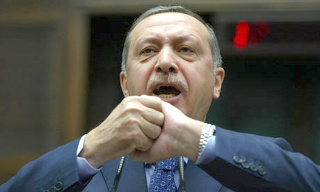 He's not the only one, as Yildirim is leading a cabinet shuffle that is uniformly putting the posts in the hands of Erdogan loyalists, all of whom are backing the constitutional reforms that would greatly expand the power of the presidency.
Concerns about Erdogan's growing authoritarianism are dominating Turkey's international relations, particularly with the European Union, and even the AKP's natural allies, the ultra-nationalist MHP, warn they see Erdogan's changes going too far, and inevitably leading to despotism.
Despotism likely isn't a stretch for a president who just two months ago publicly declared "democracy, freedom, and the rule of law have absolutely no value any longer," in the context of his plan to turn the military against opposition MPs.
In the past year, Erdogan has increasingly been using anti-terror laws against anyone seen as opposing his rule, charging university professors as terrorists and nationalizing private newspapers for publishing unfavorable stories. This month, he finally got in place a reform to remove parliament members' immunity from prosecution, the next step toward arresting members of the pro-Kurdish opposition.