Pentagon officials today claimed "about a dozen" suspected members of al-Shabaab were killed in US airstrikes against an as-yet-undisclosed target in southern Somalia over the course of Monday and Tuesday.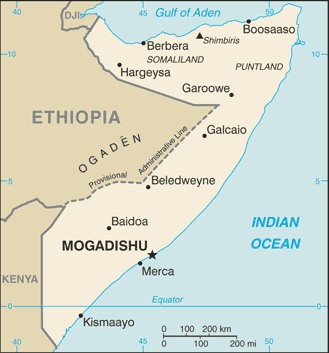 Pentagon spokesman Capt. Jeff Davis said the targeted militants "posed an imminent threat" to US ground troops positioned in the area around the Somali city of Kismayo "assisting" the Somali government.
The Pentagon has recently used claims of an "imminent threat" as a justification for several attacks in Somalia, since if true it would give them a legal justification to attack factions that the US isn't actually at war with.
In the case of al-Shabaab, US officials have also attempted to portray them as "tied to al-Qaeda" or at times "tied to ISIS." Neither claim is backed by much, and al-Shabaab is widely seen as a relatively autonomous faction, whose interests are restricted to resisting foreign intervention in Somalia.
Last 5 posts by Jason Ditz