Turkish President Recep Tayyip Erdogan today ruled out any return to ceasefire with the Kurdish separatist PKK movement, saying there was "no room" to hold any sort of peace talks with the group, insisting the "terrorists" have to either surrender or be destroyed entirely, adding "there is no third way left in Turkey."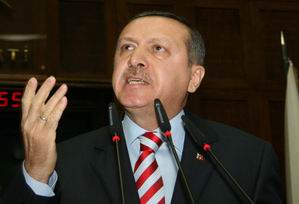 Turkey and the PKK had been in a state of ceasefire from March 2013 to July of 2015. Erdogan abandoned the ceasefire amid coalition talks after a disputed election, hoping to court a nationalist party into a partnership. Though the coalition talks failed, Erdogan made the resumption of the war a high priority.
This has led to heavy fighting and sometimes brutal crackdowns by the Turkish military against Kurdish towns, placed under multi-week curfews where they face virtual lock downs with no access to basic humanitarian services.
Thousands of Kurds have been killed, and despite Erdogan's protestation that they're all "terrorists" many appear to be civilians, fueling growing condemnation from human rights groups. This too has fueled Erdogan's rage, which has led to crackdowns against NGOs, the closure of private media, and threats to turn the military against opposition MPs who oppose the war.
It's unsurprising, given all that, that Erdogan is unwilling to consider peace. It is surprising, however, that he is so willing to publicly disavow the chances of peace talks.