Another interesting piece of information emerging from the Clinton emails at WikiLeaks shows that a Google subsidiary sought to get directly involved in the Syrian Civil War, designing an application it believed would cause mass defections of Syrian military personnel and bring about regime change.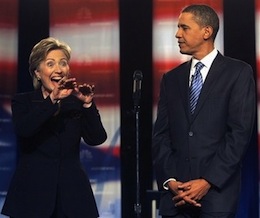 The application was created by Google Ideas, which has since renamed itself Jigsaw, and aimed to map out the defections ongoing in the Syrian military, with the belief that it would "encourage more to defect and give confidence to the opposition." The plan was to give the application to al-Jazeera to hype the data within.
The details of the plan came by way of an email from Jared Cohen, the President of Google Ideas, who previously served as an official in the Clinton State Department, and is a figure at the Council on Foreign Relations.
Cohen emailed the plan to Deputy Secretary of State William Burns, who passed it on to Clinton with the note "this is a pretty cool idea." Clinton subsequently sent the document to Monica Hanley, with the instructions "please print."
Last 5 posts by Jason Ditz