An attacker from the Tehreek-e Taliban Pakistan opened fire on a courthouse in the Charsadda District of the Khyber Pakhtunkhwah Province today, attracting security and detonating an explosive vest, killing at least 17 people and wounding 31 others.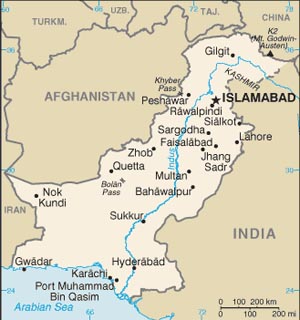 The TTP was quick to claim credit for the attack, saying that it was retaliation for last week's execution of Mumtaz Qadri. Qadri assassinated Punjab governor Salman Taseer in 2011, and was widely considered a hero among jihadists who considered the governor too liberal.
Police say the attacker, who has not been named, attempted to enter the court but was stopped by police, at which point he pulled out a gun and started shooting. Two police were reportedly among the slain, along with two children who happened to be in the area.
Local officials say the death toll in the attack may yet rise, as "four to five more injured" are in critical condition and it is unclear if they will all survive their injuries.