Though the US occupation of Afghanistan is supposedly past the "combat" phase, the Pentagon is sending several hundred ground troops into a direct combat situation in Helmand Province, as the Taliban continues to seize territory from the Afghan military.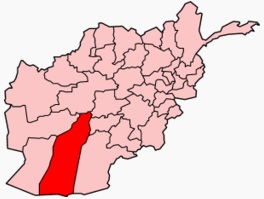 The Pentagon had previously sent a smaller number of troops into Helmand as "advisers" to try to get the Afghan forces back on track. Though these new deployments are also nominally "advisers," officials concede their primary role will be to "provide security."
Thoughout the winter, the Taliban has routed the Afghan military from several provinces, and while the Afghan forces have regained some territory sending large numbers of reinforcements, their ability to hold the important province is in serious doubt.
Pentagon officials are trying to present this as a temporary helping hand to the Afghan military, but between mounting desertions and the revelation that a large chunk of the Afghan military didn't exist in the first place, how they're ever going to be able to stand up to the Taliban in any long-term way is in growing doubt.
Losses like these are a big part of why, even as the Pentagon's spokesmen downplay the situation, their top commanders push for an open-ended extension of the occupation, keeping troops there for "generations" more.
Last 5 posts by Jason Ditz