The US State Department has responded to the Israeli Channel 2 report from Saturday night claiming that Secretary of State John Kerry was planning a visit in the next few weeks to try to kickstart peace talks with the Palestinians.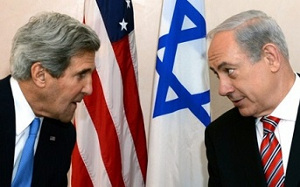 The State Department denied the claim, saying that not only is Kerry not coming to Israel any time soon, but that the US has no plans to try another peace bid at all, saying the US just wants less violence on both sides.
France announced late last month a plan for a new round of peace talks, threatening to recognize Palestine unilaterally if Israel doesn't start making some serious concessions. Israel expressed outrage at that, though the US was largely silent, which seems to be the source of the speculation that the US was going to try an alternate track.
Most recent US comments have suggested they have more or less given up on the idea of some sort of pact being reached by the end of President Obama's term, and despite Israeli speculation that Obama might try to "impose" some sort of settlement, the administration seems comfortable just letting the issue go.
Last 5 posts by Jason Ditz