Though ISIS has yet to offer claims of responsibility, the Iraqi military is blaming them for a pair of suicide attacks in Anbar Province today, which left at least 28 Iraqi soldiers dead and a number of others wounded.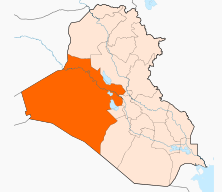 The larger of the two attacks saw a car bomb detonated at an army base in the Anbar capital of Ramadi. Iraqi officials claim they control "95 percent" of Ramadi after last month's offensive, though the city is also largely destroyed.
The second bombing targeted a government base on the outskirts of nearby Fallujah, a city still largely held by ISIS, and which Iraqi officials intend to retake next. Locals report that Fallujah, whicjh has been surrounded for weeks, is seeing major shortages of basic medicines and soaring food prices.
Ramadi and Fallujah are the major Anbar cities closest to Baghdad, and are the farthest from ISIS supply lines. This has made them an ideal first target for the Iraqi military, though gains there still mean ISIS controls the overwhelming majority of Anbar Province.