There have been a series of ceasefire and evacuation deals centering on the Syrian border town of Zabadani since September, with reports that the final few hundred rebel fighters in the town will be evacuated on Monday.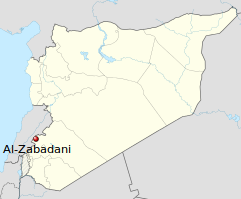 According to the reports, the new deal will have the last of the rebel fighters allowed into Lebanon, to be taken to the Beirut airport and flown to Turkey. A pair of Shi'ite towns in Idlib Province will also be allowed to evacuate the last families remaining therein.
Idlib Province is overwhelmingly under the control of rebels, primarily al-Qaeda's Jabhat al-Nusra. The Shi'ite towns have remained besieged, and the subject of repeated negotiations, usually tying them into Zabadani.
Zabadani is strategically important because of its proximity to the Lebanon border, and was the target of some Hezbollah offensives, trying to unseat the rebels and ensure control of the Qalamoun Mountains region along the frontier.