US and coalition warplanes launched dozens of airstrikes against the contested city of Ramadi today, trying to drive ISIS forces back even as Iraqi ground troops move into the central parts of the Anbar capital.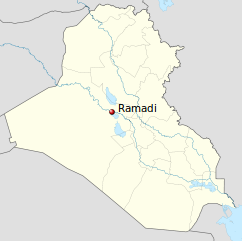 Despite claims of many hundreds of slain ISIS fighters, the group isn't ceding much territory in recent days, however, with the army saying booby traps and sniper fire from remaining ISIS forces are keeping them out of the city's center.
The military has predicted victory in a matter of days for nearly a month now, but its goal appears to be having the fight wrapped up by the end of December. Though they continue to express confidence in getting that done, time is running down.
US involvement in the Ramadi fight so far has been restricted to airstrikes, though they've also offered to send attack helicopters and advisory ground troops into the city as well. This offer has so far been rejected by the Abadi government.
Last 5 posts by Jason Ditz