A series of Russian airstrikes pounded the capital city of al-Qaeda's Nusra Front, Idlib, in northwestern Syria today, clobbering a busy downtown area and hitting several government buildings as well as nearby residential and commercial districts.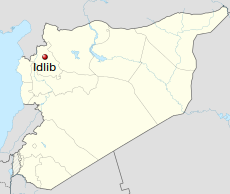 Rescue workers in the city reported 43 identified slain, and another 30 bodies recovered so far pending identification, adding that more bodies are still being found and the overall death toll is likely to rise.
Since beginning its air campaign in Syria back in late September, Russia has heavily targeted the Idlib Province and surrounding area, attempting to bolster a Syrian military offensive aimed at reclaiming territory lost to al-Qaeda and its allies in the area.
The city of Idlib itself, however, had largely been spared to this point, and many displaced from other areas closer to the frontlines had flocked to the city in the hopes of avoiding the fighting. As with everyplace else in Syria, however, there appears to be no place civilians are safe from international airstrikes, Islamist suicide bombings, or a combination thereof.