There were reports of a pair of ballistic missiles being fired by Yemen's Shi'ite Houthis against Saudi Arabia this weekend. One appears to have come down in the city of Najran, killing three civilians, while the other hit empty desert further to the east.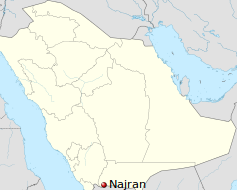 Saudi officials said one of the three civilians was a Saudi citizen, while the other two were workers from India. The Saudi government reiterated warnings for civilians to stay away from the border frontier in the wake of the missile firing.
Despite a nominal ceasefire that's been in place since Tuesday, there has been fierce fighting along the Yemen-Saudi border, and another Saudi civilian was reported wounded by an artillery shell that strayed across the border from Jazan.
As fighting continues to pick up, ballistic missiles have come more into use in the war, with a ballistic missile strike against a Saudi base near Taiz last week killing 152 troops. Though this was a Soviet OTR-21 Tochka missile, the missile fired at Najran was a smaller, Yemen-made missile called a Qahir-1.