Early US uses of drones centered on CIA assassination schemes, but in recent years both surveillance and attack drones have become a proper part of the US military arsenal. The Air Force already has eight drone squadrons, and today announced plans to double that to 16.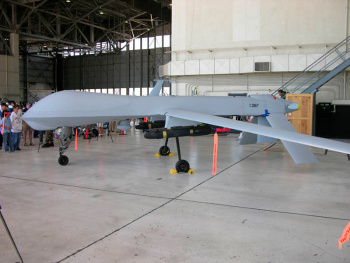 Assuming they can get the money out of the Pentagon, the new squadrons would add 3,000 Air Force personnel, including 700 new drone pilots. The talk is of basing the squadrons out of Langley AFB in Virginia or Davis-Monthan in Arizona, allowing them to work more closely with intelligence gathering units.
While drones used to be treated as a relatively specialized sort of unit, good primarily for spying, heavy investment in the field has unmanned aircraft increasingly looking to be on a path to compete directly with traditional warplanes in some aspects.
The Air Force announcement, however, appears to hope to dodge that competition with its traditional warplanes, expecting to add the new squadrons without replacing any existing ones, and simply growing their overall budget.
Last 5 posts by Jason Ditz