Less than a week after Israeli Defense Minister Moshe Ya'alon insisted Israel has no formal position on a settlement ending the Syrian Civil War and intended to "keep their opinions to themselves," Israeli Prime Minister Benjamin Netanyahu is demanding any deal reached comply with Israel's interests.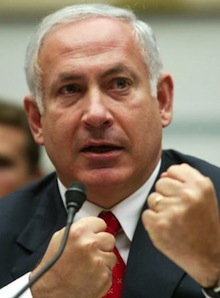 Netanyahu says he laid out several "red lines" to President Obama during today'sz meeting, including not allowing weapons transfers from Syria into Lebanon, and not accepting a "regime" in Syria that acts as an Iranian proxy.
In effect, after Ya'alon's effort to move Israel toward a more neutral position on Syria, Netanyahu has snapped them back to their long-standing position, supporting regime change against the Assad government entirely on the basis of that government being on good terms with Iran.
Israeli officials have repeatedly laid out that default position over the years, insisting anything bad for Iran must by default be good for Israel. There had been suggestions from some Israeli analysts that this over-simplistic policy was worth reexamining, particularly with al-Qaeda and ISIS growing so powerful within Syria during the civil war, but it seems the old position still has considerable momentum.