The downing of a Russian airliner last weekend in Egypt's Sinai Peninsula is another blow to Egypt's tourism industry, but more importantly the gains that ISIS and other Salafist groups are making are raising growing doubts among Israeli and some US officials about the ability of the junta and its leader, Abdel-Fattah El-Sisi, to remain in power.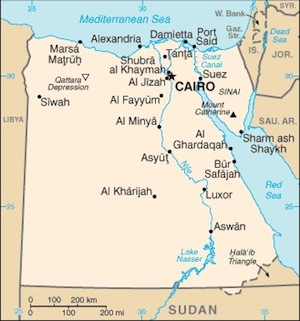 Israeli media are citing a new report coming out by the Washington Institute for Near East Policy (WINEP), an AIPAC-affiliated thinktank, which details the concerns of Israeli state and defense officials about Sisi's position, with many expressing doubt that Sisi will even survive this current term in office, which ends in 2018.
Formerly the defense minister, Sisi seized power in summer of 2013 in a military coup. Sisi followed his coup with an immediately launched war against the Sinai Peninsula, claiming the Islamist groups there were in league with the previously elected government.
The Sinai war has gone extremely poorly, with the largest of the groups in Sinai, the Ansar Beit al-Maqdis, growing dramatically in power and, by November of 2014, formally joining ISIS as an affiliate. The group remains active across Sinai, and was credited with bombing the Russian plane.
Former White House counsel Greg Craig offered some of the most stark assessments in the report, from top Israeli national security people who said Egypt was doing "all the wrong things when it comes to counter-insurgency," and that you could basically make a list of all the things not to do with an insurgency, and Egypt has done them all.
The worsening situation has led to admissions Islamists have tried repeatedly to assassinate Sisi, and as the security situation worsens, even the military leaders who were his primary advocates in the coup are said to be turning their backs on them.
Israel loudly advocated the 2013 coup and has backed Sisi's continued rule at the expense of democratic reform, arguing that the junta is better for regional security than the elected Egyptian government he replaced was.
Last 5 posts by Jason Ditz