Despite officials continuing to talk up US ground troops in Iraq as being in a "non-combat operation," the first American soldier has been killed in a combat situation in Iraq since 2011, when special forces took part in a Kurdish raid against ISIS forces near Hawijah.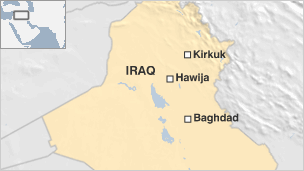 The raid saw US and Kurdish troops trying to rescue people held by ISIS, and the Pentagon says 70 were rescued, including more than 20 Iraqi troops. They reported five ISIS fighters captured, one US soldier killed, and four Kurdish Peshmerga wounded.
Five US helicopters were involved in the operation, along with an undisclosed number of troops, all special forces. Officials say the Kurdish forces took the lead, suggesting they're going to stick to the narrative of "advise and assist," even if direct combat operations.
This is the third coalition soldier killed in the new Iraq war, including a Jordanian pilot killed in December and a Canadian soldier killed by friendly fire back in March.
US warplanes have been bombing Iraq for over a year, though so far ISIS territory hasn't significantly shrunk. Planes launched several airstrikes around Hawijah in the lead-up to today's raid, aimed at preventing ISIS from sending reinforcements to the raid site.
Last 5 posts by Jason Ditz