Speaking from the city of Kobani, a Kurdish YPG commander who goes by the name of Rubar bragged about his forces' intentions of taking the ISIS capital city of Raqqa as well as the important Aleppo city of Jarabulus in the days to come, saying he has 20,000 troops ready to go, backed by some 5,000 Arab fighters.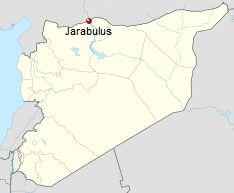 YPG predictions of quick, gaudy victories are common enough, but the included confirmation that YPG fighters were the recipients of some of the 50 tons of arms the US airdropped into the Hasakeh Province last week. The US had previously denied this, claiming the weapons were exclusively for unnamed Arab groups.
This is likely to fuel a new round of Turkish condemnations of US involvement in Syria, as they've warned the US repeatedly not to arm the Kurds, and have also said ISIS-held Jarabulus is a "red line" which Turkey would never allow the Kurds to control.
Russia has been backing the YPG with some airstrikes in Aleppo, while the US is backing them with strikes around Raqqa, a rare occasion when the two nations' wars overlap. Turkey has repeatedly threatened to shoot down Russian planes around the border.
The YPG controls most of Hasakeh Province, and some territory in Aleppo, centered around Kobani. These two possessions are split by ISIS territory in Raqqa, which is why the YPG is so interested in "liberating" major Sunni Arab cities in the area from ISIS.
Defending Hasakeh itself, the YPG has been supported by the Syrian military, and by US airstrikes, another unusual overlap of interests. Turkey's interest in blocking Kurdish territorial growth is largely independent of the ISIS war, and centered on the belief that Kurdish sovereignty anywhere in the region imperils Turkey's ongoing war against the Kurdish PKK.