Amid a spate of protests and violent military crackdowns on those protests, Israeli officials are ratcheting up the rhetoric, with Defense Minister Moshe Ya'alon urging the summary executions of all stone-throwers in a nationally televised conference, insisting the nation needs to "liquidate" them "immediately and on the spot."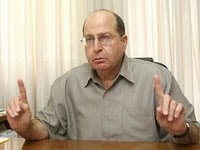 Ya'alon is urging all Israeli civilians to carry guns so they can shoot Palestinian "terrorists" at sight, saying the important thing in all cases is that "the terrorists are shot dead, and our people aren't." while seen by most as simply grandstanding, the policy seems to be taking hold among Israeli police.
Indeed, a video has been making the rounds of Israeli police shooting an Israeli Arab woman at a bus station after she put her hands up, with Israeli defense officials warning the video could fuel unrest across the country. The shooting also fueled criticism from opposition MPs.
Joint List MP Basel Ghattas said the police were "implementing government policy, which is to shoot every Arab suspect on site." He also criticized Israeli media outlets for referring to the woman as a "terrorist" even though she didn't attack anybody.
Last 5 posts by Jason Ditz