Israeli Prime Minister Benjamin Netanyahu reportedly told top settler leaders that there is a de facto freeze on all new settlement construction in the occupied West Bank, based on "current pressures" from the US. The settlers were demanding massive new building to spite Palestinian protesters complaining about recent crackdowns.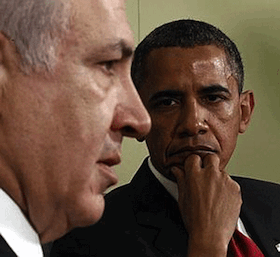 The meeting came amid reports that the United States gave Netanyahu an ultimatum, demanding he stop announcing new settlement construction, and warning that the US would not veto a UN Security Council resolution condemning the illegal settlements if they continued expansion.
Israel has long relied on the US veto to get around UN criticism of settlements and other illegal activities in the occupied territories. Sources quoted in the Israeli press said they believed it was not worth endangering Israel's international support for a few settlement tenders or an expanded construction in the West Bank.
Israeli officials are not publicly commenting on the matter, but the settlers are, and are loudly condemning the move as a "serious mistake" that threatens Israel in the long run, saying they believe more construction in occupied Palestine is an "ethical" response to Palestinian protests.