The Egyptian military junta today announced that they pardoned 100 prisoners for Eid al-Adha, a list which included three employees of al-Jazeera who were arrested after the 2013 military coup for news coverage they found "harmful to Egypt." Al-Jazeera has been treated with hostility by the junta because it was on good terms with the elected government.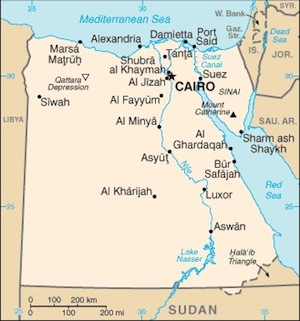 One of the three journalists in question, Australian Peter Greste, had already left the country back in January when he court ordered him deported ahead of the trial. The other two were released today, including Canadian Mohamed Fahmy.
Fahmy reported that he and the others were taken out into a Cairo suburb by police and just dropped in the street and told to "go home." He was released without his phone, with no money, and still wearing prison garb. He's hoping to return to Canada as soon as possible, but that may be easier said than done.
After Greste was deported, Fahmy was out on parole briefly pending a February trial date. During the time, the junta put him on a list of people banned from leaving the country, and the indications are that he's still on that list. Unfortunately, because of the Eid al-Adha holiday, there are several days before Fahmy will be able to attempt to get removed from the list, and allowed to go back to Vancouver.
Rights groups have been harshly critical of the trial against the journalists, and while some praised the release today, they noted that there were hundreds of other people imprisoned on bogus charges after the military takeover who have yet to be released.
Last 5 posts by Jason Ditz